I was hesitant initially. I resisted learning from my father, the art that my ancestors skilfully mastered and embraced as a lifestyle for many generations. Because the employment at a spinning mill in Coimbatore gave me better wages and the work came easy without having to train and practise hard for months. But life had other ideas. The worker's union protested for a hike in the wages and some of us were laid off!
Those sudden turn of events took me back to Puravipalayam, my hometown. Devoid of employment, my finances hit rock bottom and those were the days that taught me to learn it the hard way! My determination to understand and master the craft might have been to meet the ends but in the pursuit of my livelihood I found happiness. I discovered that there isn't anything quite as therapeutic as the feel of the warm, lustrous earth taking shape between my palms and fingers, while listening to the comforting sound of a spinning wheel!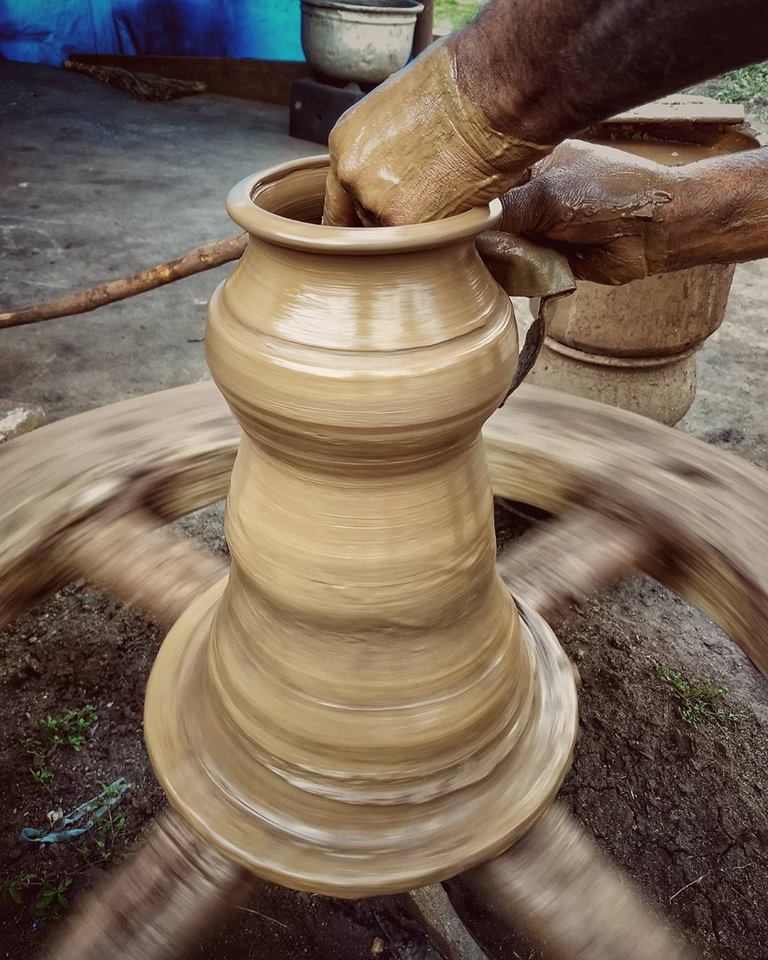 It wasn't easy. I had to start from the basics of gathering the suitable clay and spreading it out in the sun so that the termites could remove all the air and the foreign particles. This makes the consistency of the clay suitable for binding, making the pot stronger.
The termite-fed clay would be stenchful and I used to tie a scarf over my face. Over time, I got used to the smell and once you let the mud dry in the sun the smell vanishes.
Pottery gives me joy every day. I was first asked to spin the wheel and once I passed the test, I learnt how to do a small clay lamp, then a small pot, a bigger one and only then I was even allowed to attempt these uruvaarams (figurines).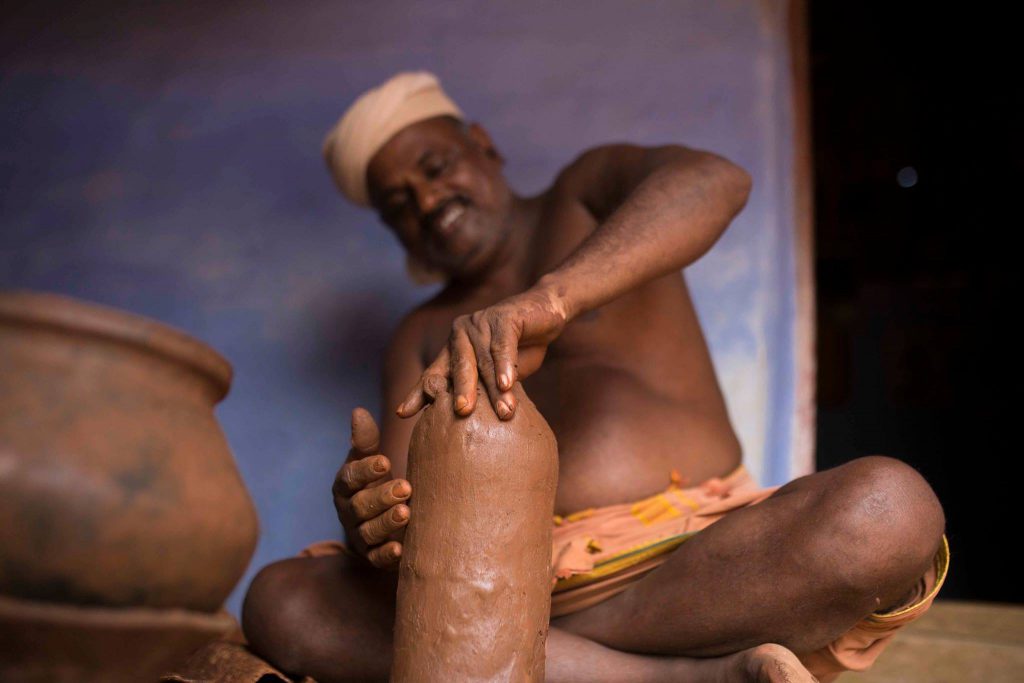 Every time I sit in this place I'm hit with a wave of nostalgia because this is where my father and my grandfather sat during the Zamindar period. The British officers who visited the village during those days had little respect for the wage earners but was awed at the skill of my forefathers – something they could never imitate or better, my grandma boasts every now and then!
I have three siblings who are working at various jobs in the cities while I do this. They are better off today by living standards, but Puravipalayam has fed my lineage and satisfied my hunger, my heart does not intend to leave this place at any time, at any cost.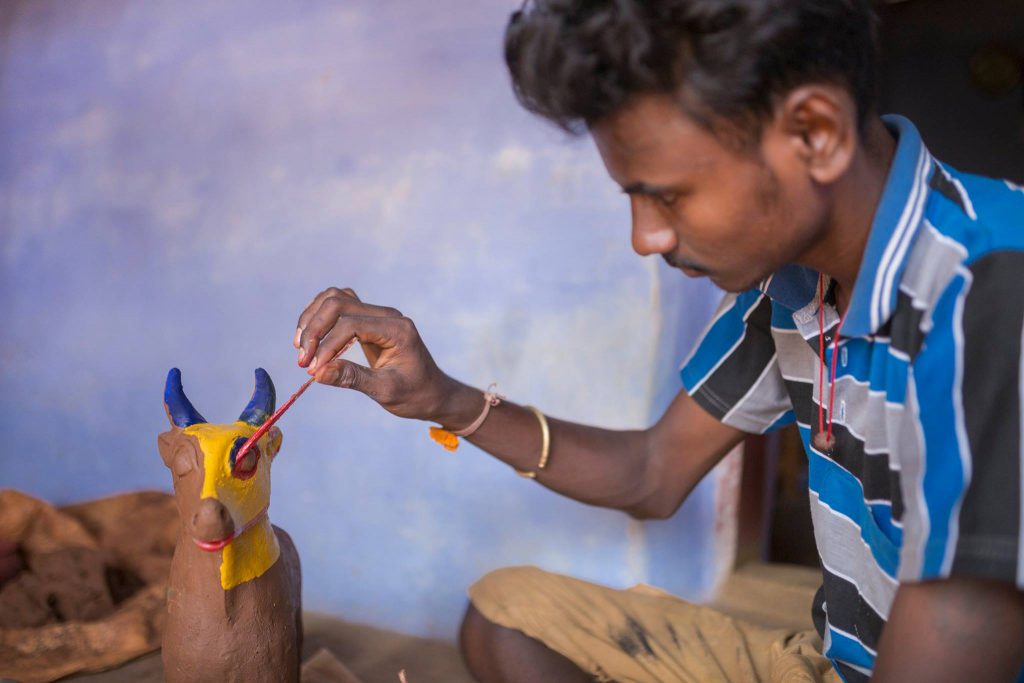 My son has no interest in what I do but he loves to paint these figures as they get ready to be delivered. Maybe one day, he will discover his passion for clay and embrace it too! I look at these dolls that take shape every day in my house and I feel elated. People from the surrounding villages, as well as from the neighbouring Kerala towns, buy these figurines from me. While most of them dedicate it as a prayer offering at the temples, very few individual customers buy it for decorative purposes.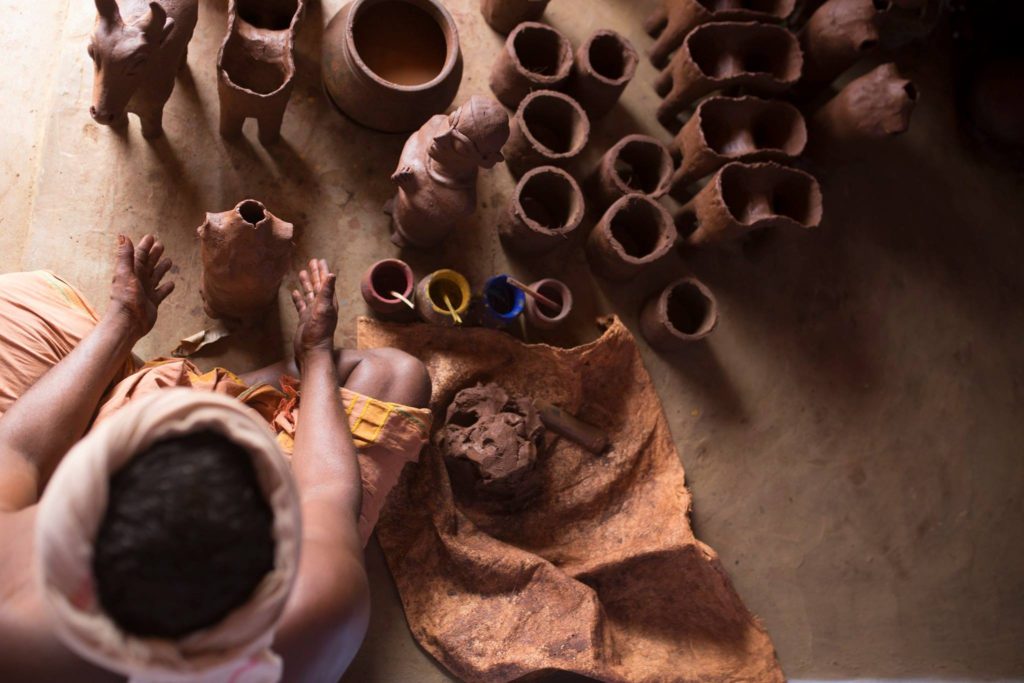 I consider these figurines as my own interpretation of the colors and forms I see here in my Puravipalayam home. I chose to use red clay as a symbol of the wonderful red dirt under my feet.
Over the years, I have also come to understand that the soil I use to create these figurines has existed over millions of years. The soil has been witness to many generations- those that it has given birth to as well as buried.
I, Velayudham, create and shape figurines and pots with the soil that this land holds, with immense respect to the Earth and its master creator who created all that's in it!