It was a warm January afternoon that took us to the Kongu Naatu Kaalnadai Thiruvizha. The large expanse of grass field interspersed with swaying coconut palms took me completely by surprise. It lacked the frenzy of the city. The atmosphere, to a visitor like me, was immediately welcoming and I found myself eagerly looking forward to the rest of the evening.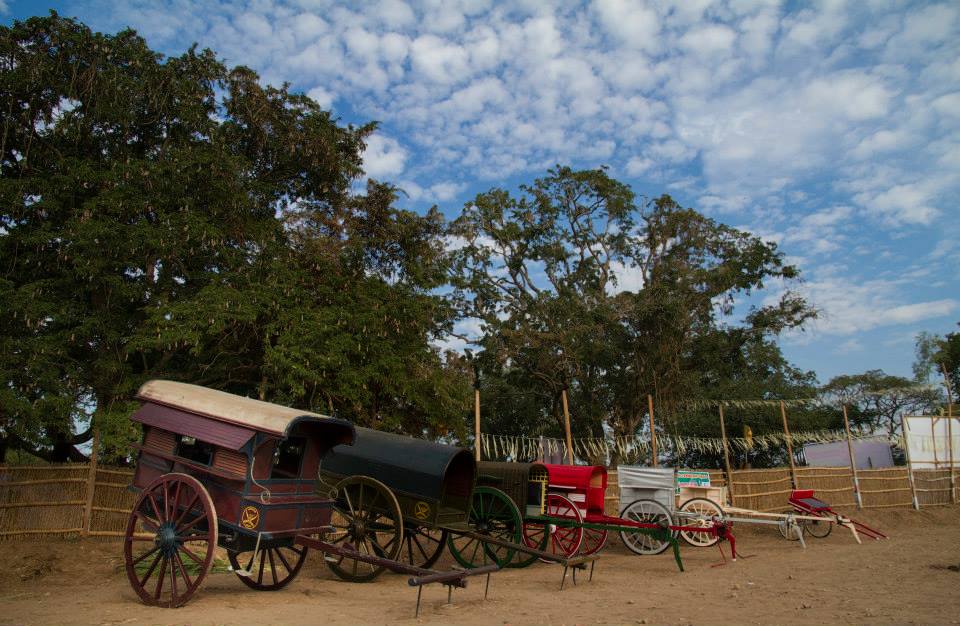 The stalls exhibited a mix of old traditionalism and new age technology in their products. This also served as an information hub for farmers to know the advances that were being made in the agricultural sector. A beautifully restored wooden carriage was displayed which transported one's thoughts to what life must have been like back then.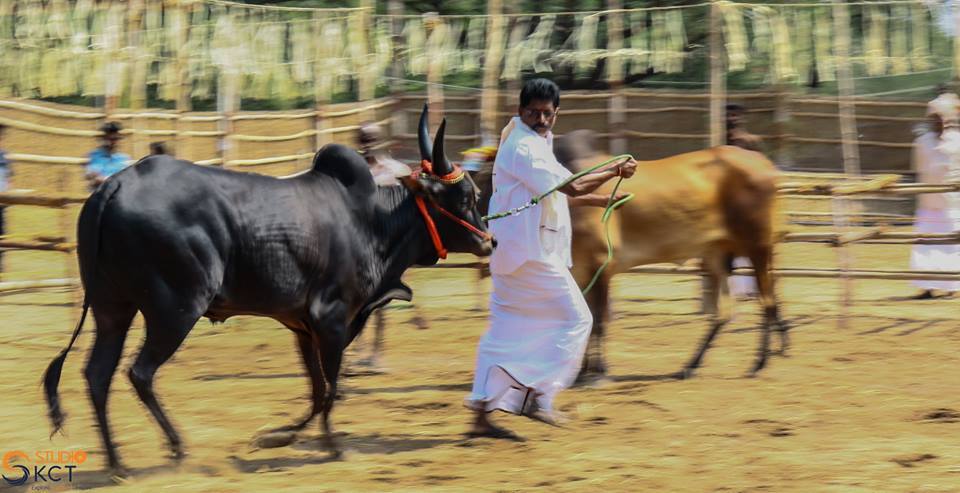 As we walked out onto the field we were greeted by people who are not only passionate about the goings on of the area in and around Pollachi but are also deeply committed to the conservation of the native livestock. The Vanavarayar Foundation has come up with the idea of holding this festival after the discontinuation of sports like jallikattu and rekla race. Speaking about that, Shankar Vanavarayar says, that the family felt that the livestock owners needed a place to come to where they could showcase their cattle, horses, poultry, sheep etc.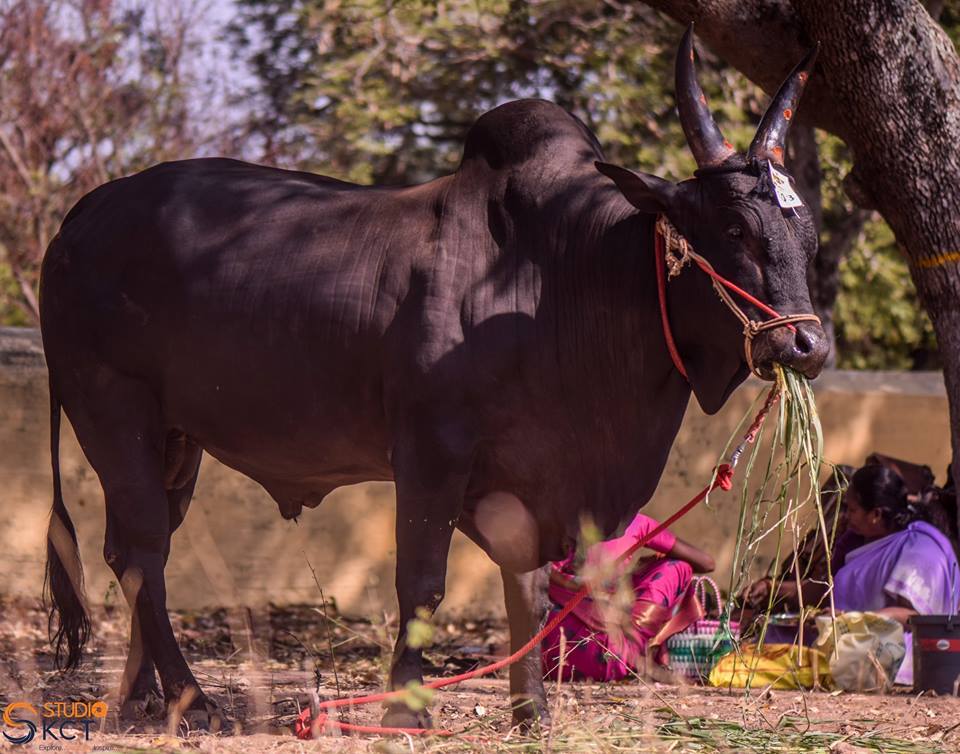 Among the many Native breeds of cattle that featured, the one that stole the show was the majestic Kangayam bull. To say that the build and stature of this breed of cattle took one's breath away is to put it mildly. Long after taking pictures of the magnificent bull we found ourselves still riveted to the spot.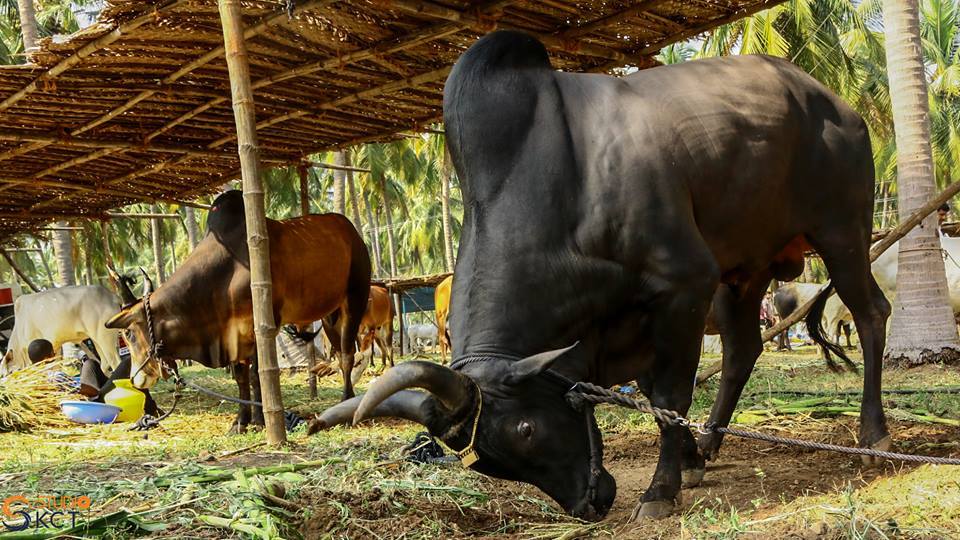 I was literally unable to tear my eyes away from the beautiful specimen that stood before me, alert but calm. His skin was almost as if a charcoal artist had showcased his talent to perfection in monotone hues. The owners had highlighted the beauty of the animal by adorning the forehead with a thick red cord woven with gold bells.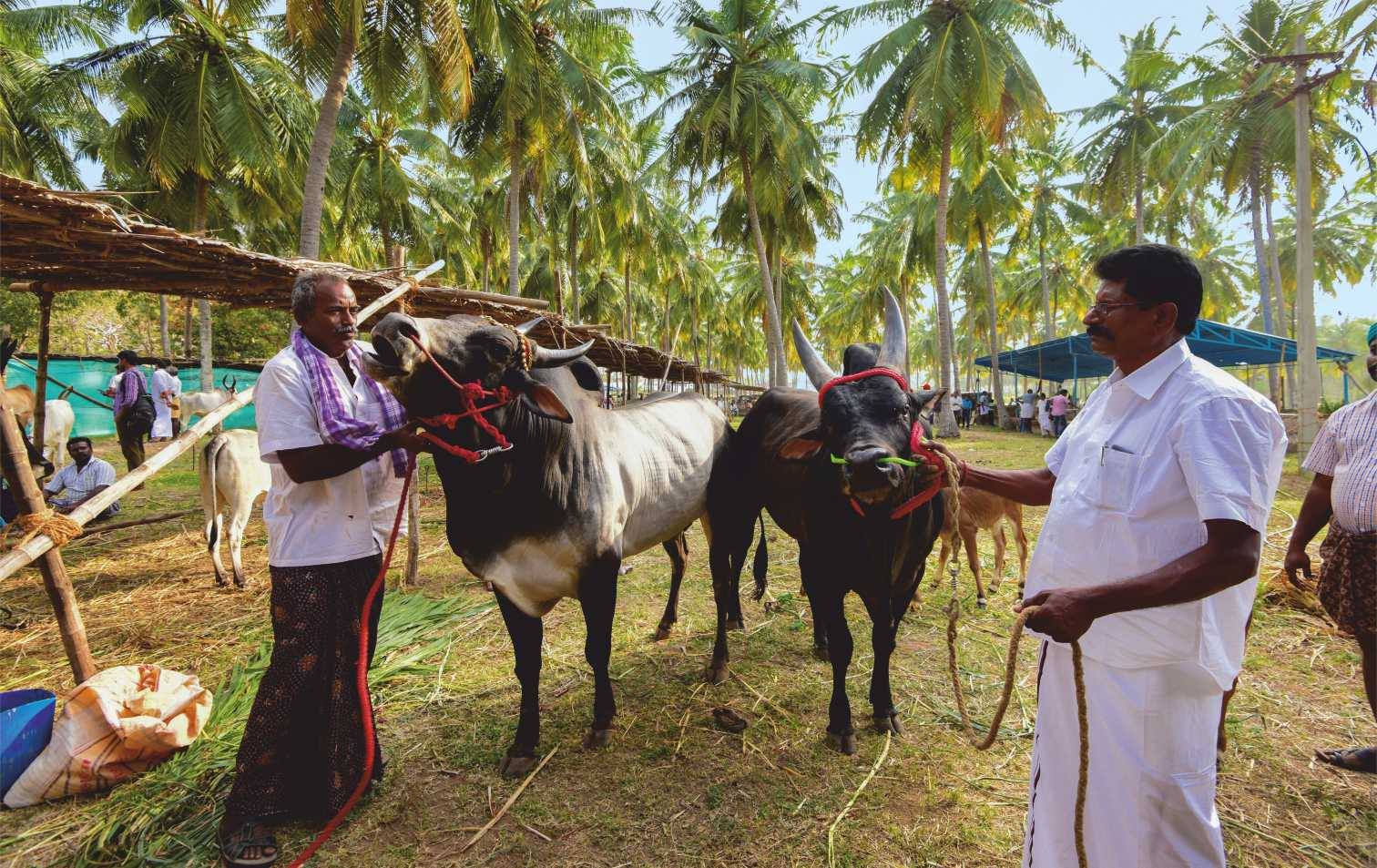 This is how each and every animal which was present in this festival was tended to. It was apparent that these pets were deeply cared for by their owners. The festival is also an outing for these farm owners who don't get much of an opportunity to interact with each other socially. They are a tough looking lot no doubt, but when it comes to being well mannered and respectful, they rate very high on my list. Not for one moment did I feel uncomfortable or scrutinized either due to my gender or my city garb!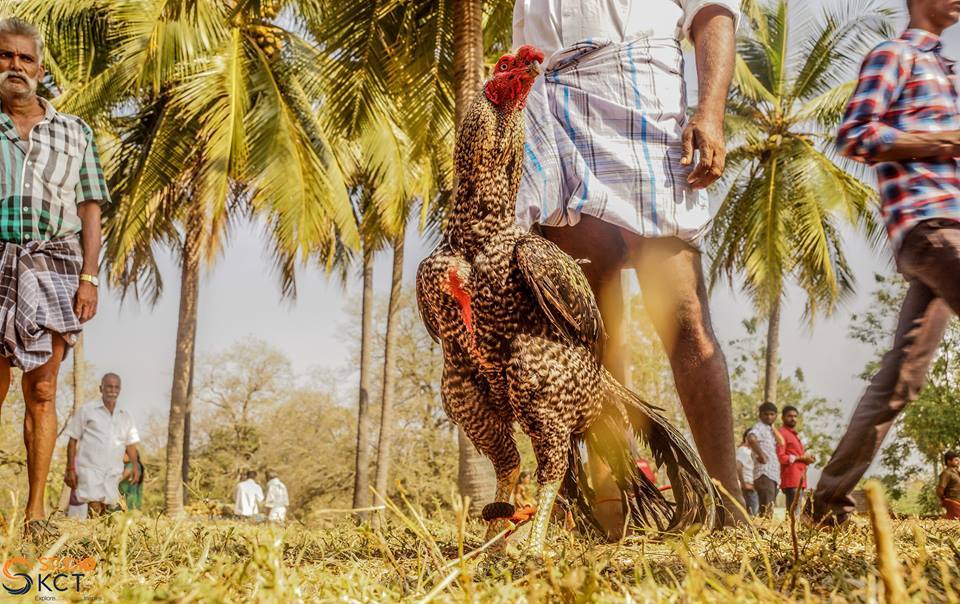 This is another reason why I would recommend this to be an enjoyable family outing. It's safe, as long as you watch your back. Those horns are everywhere! It's fun because there is just so much to see.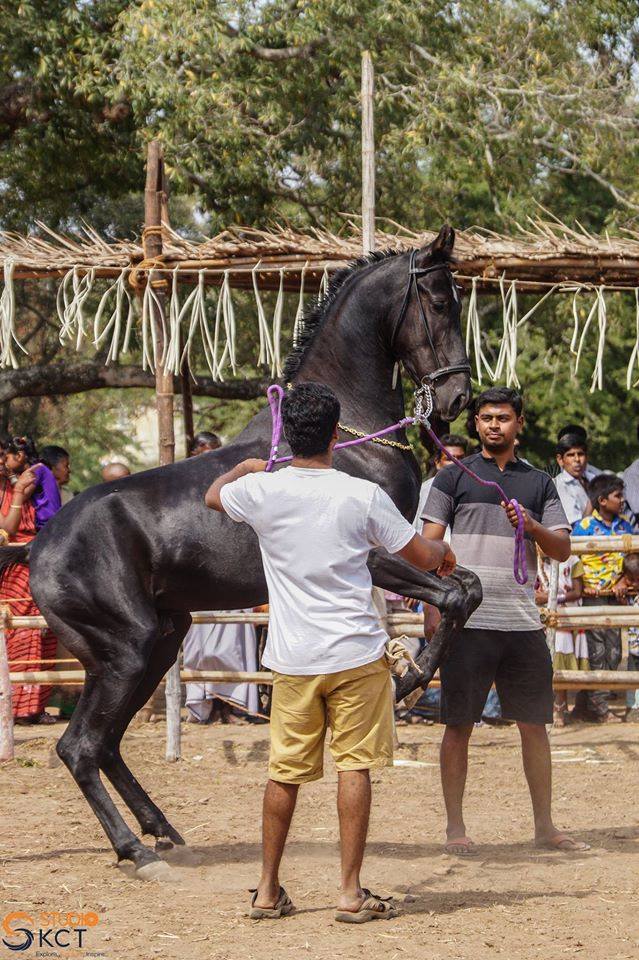 From the proud stallions and angry cockerels to cows with gigantic horns and rams waiting to butt each other's heads, one is spoilt for choice.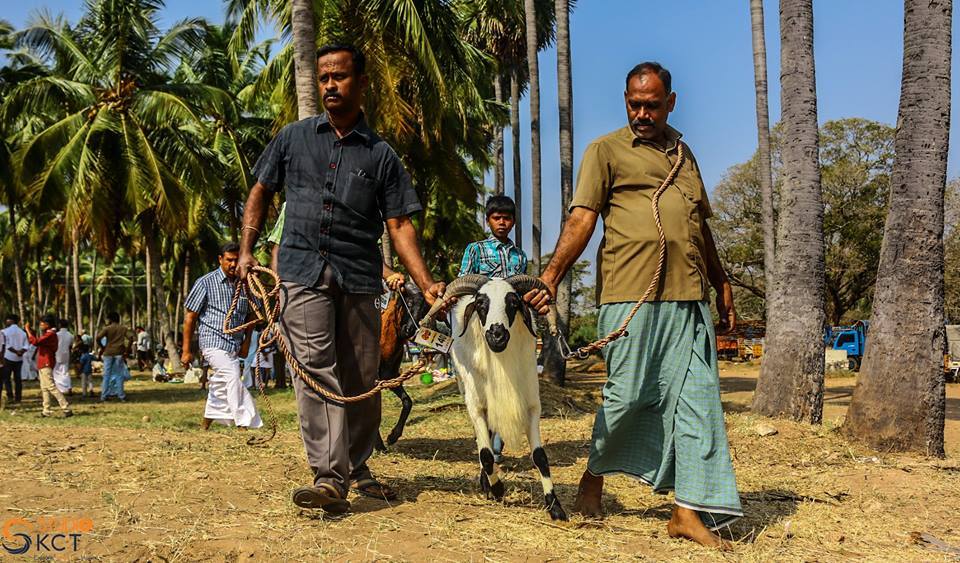 Then, there are vendors selling cool, sweet tender coconut water. I watch as he deftly slices off the top to make an opening just enough to sip from and fashions a sheath like spoon from the outer coconut shell, to be used to scrape the tender coconut flesh. As people linger over boiling vats of country corn and slices of freshly cut pineapple, we walked around waiting for the cultural acts to begin.
The dancers when they made an appearance, were all men. This is rather an unfamiliar sight for me. The vocal rendition of the loud country songs begin and these male dancers are just as delight to watch. The rhythm and style with which they move catches you unawares with its attention to organized choreography!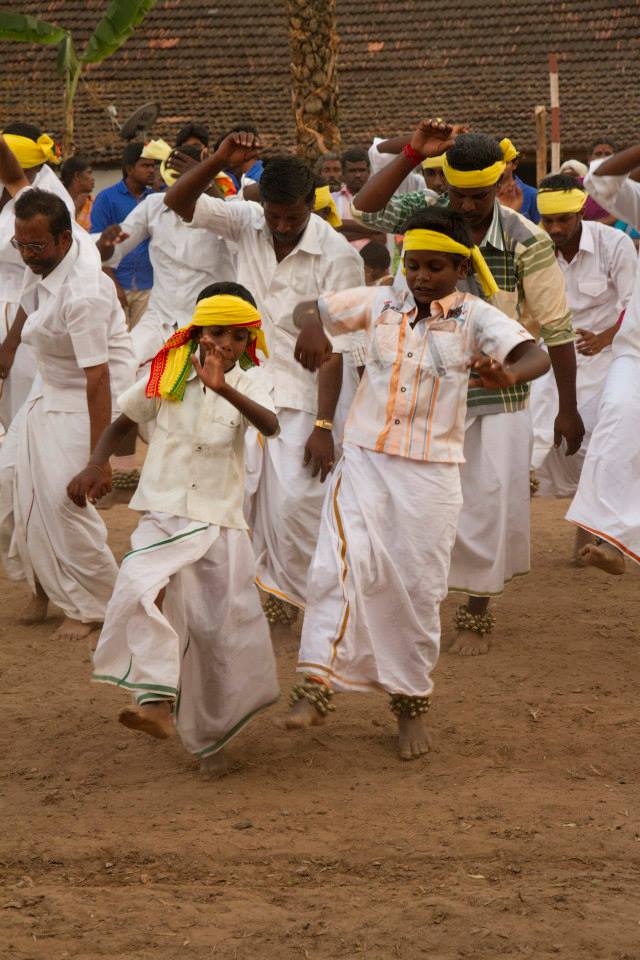 It's heartening to see the young and the aged dancing in the same line. The strains of the urumi have us stopping in mid-sentence. That sound reverberates with the auspiciousness of village happenings and is soul stirring!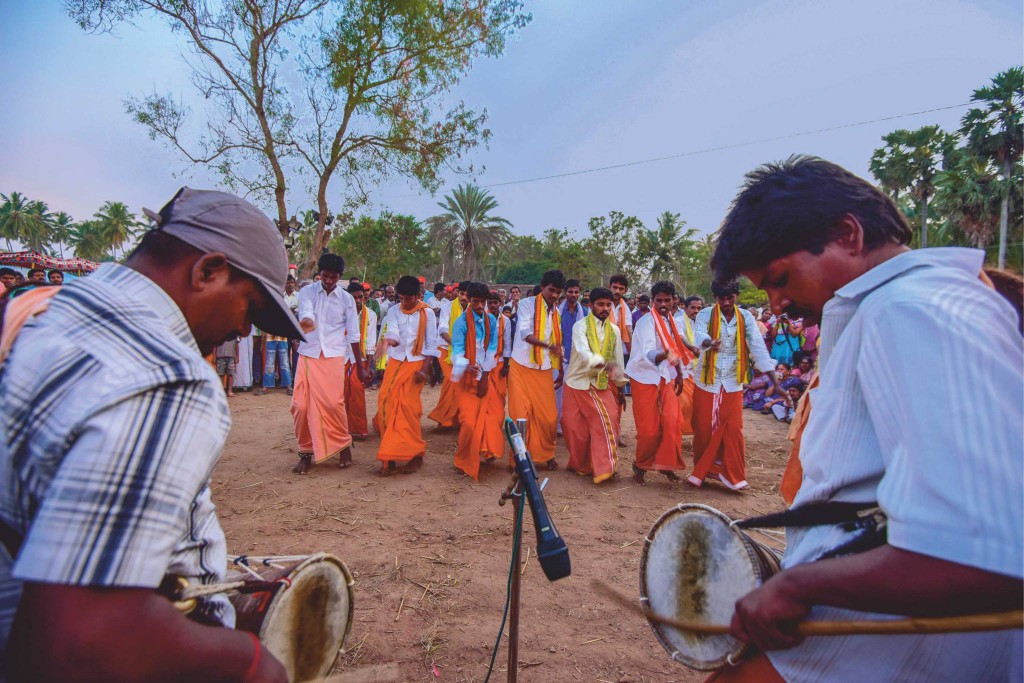 It is a circle of life that has been in existence since settlers made this area their home. To visit a fair of this kind is not only a huge educational experience but reminds one of a time in life where living was defined simply as a means to co-exist with nature. It is a festival not only for those connected with an agrarian lifestyle but for people, who want to expand their minds, soak in new sights and understand that this outdoor museum with live exhibits is for us to protect from becoming extinct!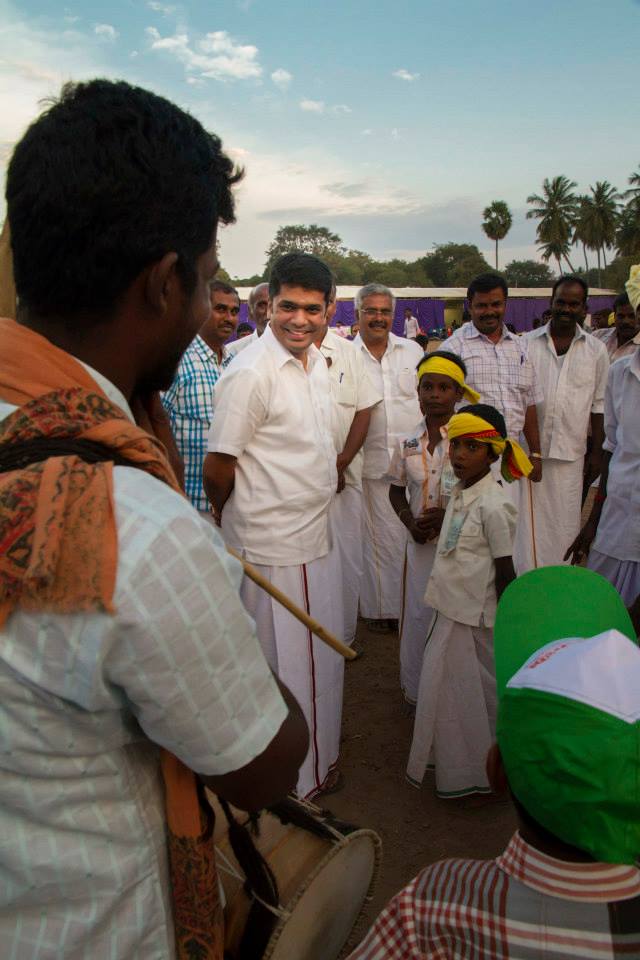 As Shankar Vanavarayar says, "Somehow over the years Pollachi came to be associated with livestock-culling and not livestock –rearing. It's time we changed that mindset". Let's all help bring about that change by taking some time off to visit this unique festival!
This year, the festival is scheduled to happen on 3rd, 4th and 5th of February at Samathur, enroute Aliyar.
For more details – http://bit.ly/2kryNpB