The aroma of slowly simmering fish curry, cooked in a mann chatti (clay pot), fills up the air at this bustling Chozha mess at Sungam with tiled roof and wooden benches. Run and managed by the husband (Vijay) and wife (Jaya) from Thanjavur, the mess serves a range of authentic Chozha Naadu flavors amidst an array of biriyani shops at the four way junction enroute Aliyar. The mess offers the fish lovers an exciting option to look away from the famous biriyani -serving local joints in the vicinity.
Lunch here is steaming, hot rice served with fish curry, fish fry and a mix of thovayals (chutney) and poriyals (vegetables) on a plantain leaf. The meal is more than a stomachful with yummy Sambar, rasam and thick curd adding to the fish delicacies. A variety of thovayals, each flavor a day, are a crowd favorite. Vijay tells us that these thovayals (chutneys) are made out of millets, spinach and vegetables to make available, a pleasing meal to the vegetarians.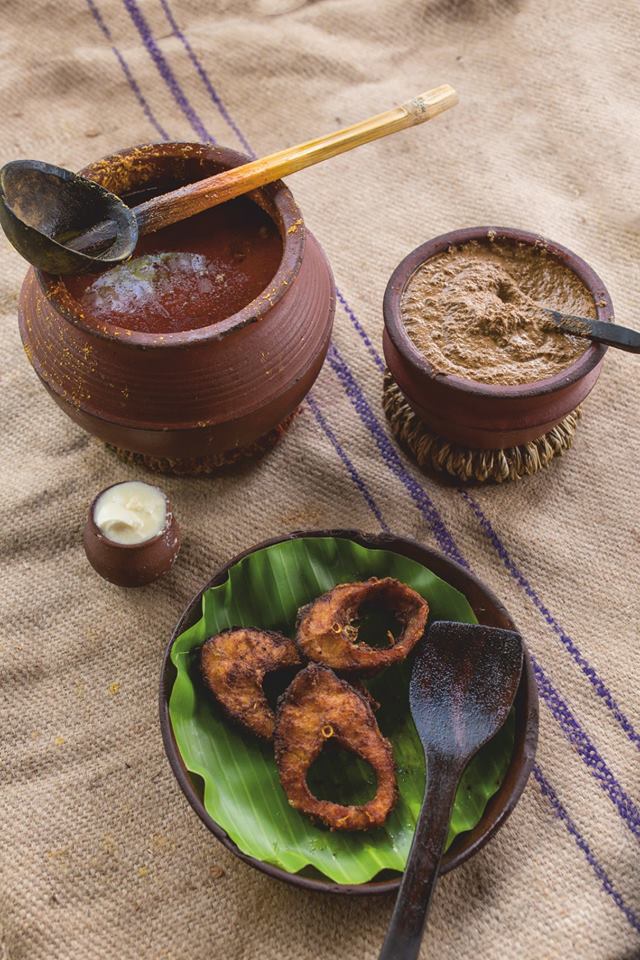 The fish served here are Rohu, mrigal, catla varieties procured from the nearby Aliyar dam, and are soaked in the sapid flavours of home ground masala comprising of chilli, coriander and tamarind. Everything here, especially the fish fry, tastes brilliant because Jaya, who cooks all the dishes, tells us that all the masala that she uses is hand-ground by herself and her mother to keep the Tanjore flavor intact. Even the oil they use is cold pressed in a farm nearby.
Water, the fish curry, curd are all served in mud glasses and mud pots to enhance the rustic flavour.  For a typical South Indian customer, the hospitality, taste and smell of food served here evokes a treasure trove of memories of the best of times enjoyed with family and friends.
Chozha Mess is open on all days from 12:30 p.m. to 4:30 p.m.